This machine is applicable for round can seaming with vacuuming and Nitrogen flushing /gassing processes, the detail description as following table:

| | |
| --- | --- |
| Issue | Application Description |
| Applicable Containers Applicable Lids | Round shape cans, which are made of hard materials, like aluminum, tinplate and the other kinds of metal, or cylinder cardboard tubes and hard plastic etc. Mental lids, such as tinplate, Aluminum |
| Applicable Products | Various powdered materials, such as milk powder, protein powder, coffee powder, health care products Powder requested vacuum and Nitrogen filling, to achieve the lowest Oxygen residual in containers |
The working processes include: Feed the container by a linear clam, and the machine pre-cap the lid on the can to be seamed. The can moves to the vacuuming and nitrogen flushing chamber, after vacuuming, the nitrogen or other gas will be injected to the chamber to normal pressure, and seaming mechanism will seal the can automatically.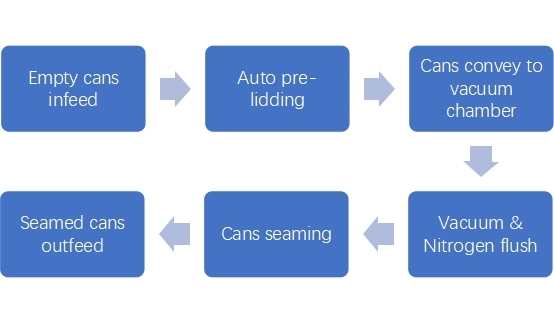 Standard Features
1) Apply for Round Shaped Tinplate can, Aluminum Can or PET can seam with vacuuming and nitrogen filling processes
2) Stainless Steel 304 for structure, shield and other key components
3) Apply silicone gel for vacuum sealing system
4) Configure with PLC and touch screen control system, parameters can be set up conveniently
5) Configured vacuum pump and vacuum chamber to form a separate vacuum environment and achieve high vacuum result
6) Configured cans infeed and outfeed conveyor belt
7) Double seaming rolls for reliable seaming performance
8) Inserting rod mechanism to break the Arch bridge which formed by powder before ends lidding
9) Configure with can feeding and lidding interlock, no can feeding no lidding
10) Equipped with high precise sensor for vacuum detecting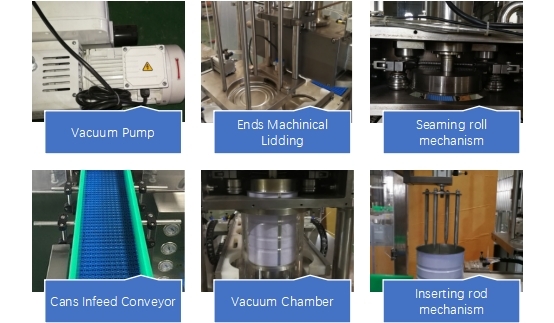 | | | |
| --- | --- | --- |
| Catalogue 2W-xxxxx | FGZK-B | FGZK-A |
| Type **1) | Container Non-Rotating | Container Non-Rotating |
| Number of Seaming Head | 1 | 1 |
| Lid Pre-capping | Manual | Automatic |
| Seaming way | Automatic | Automatic |
| Speed Adjustable | Non-Adjustable | Non-Adjustable |
| Container Moving Method | Linear conveyor with cam | Linear conveyor with cam |
| Height of Container | 80-190mm | 80-190mm |
| Diameter of Caps | 70-127 mm | 70-127 mm |
| Seaming Speed | 5-6 cans/ Min | 6-7 cans/ Min |
| Power Requirement(V/Hz) | AC 380 V 3P+N+E 50HZ | AC 380 V 3P+N+E 50HZ |
| Electricity Consumption(kW) | 3.3 | 4.0 |
| | | |
| Compressing Air Requirement | 60L/min-0.6-0.8MPa | 80L/min-0.6-0.8MPa |
| Nitrogen/Gas Requirement | 50L/min-0.4-0.6Mpa | 50L/min-0.4-0.6Mpa |
| Approximate Weight(Net)(kg) | 350kg | 500kg |
| Dimension(mm) | 800(L)×700(W)×1850(H) | 2000(L)×800(W)×1850(H) |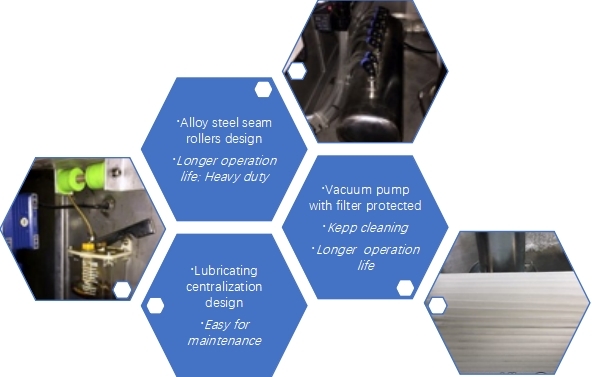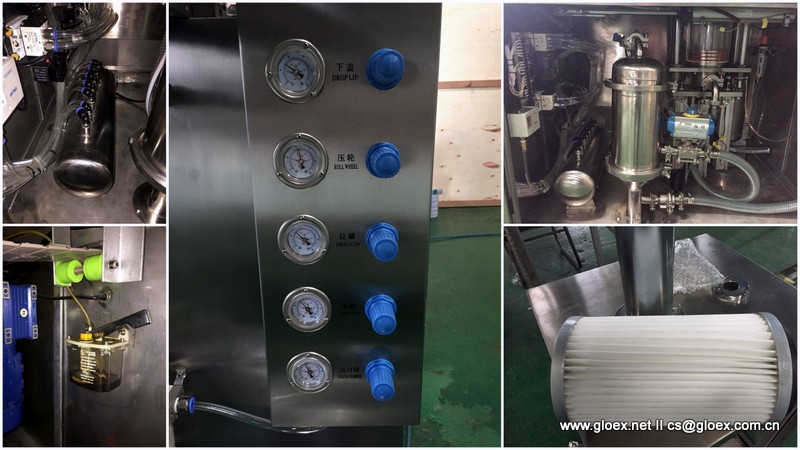 Following is the related video link on our Youtube site
https://www.youtube.com/playlist?list=PLoI3FEOZ6j4NvfXIwvNEYBhSL5ujbyDzi
More information, please leave us message or email us at cs@gloex.com.cn