This machine is applicable for seaming the round can with vacuuming and nitrogen flushing /gassing processes, continuous motion model , high speed seaming , apply for the cans which are made of aluminum, tinplate , PET, or paper and the other kinds of can, the detail application description as following table:
| | |
| --- | --- |
| Issue | Application Description |
| Applicable Containers | Round shape can, which are made of hard materials, like aluminum, tinplate and the other kinds of metal, or cylinder cardboard tubes and hard plastic materials. |
| Applicable Lids | lids which are made of aluminum, tinplate and the other kinds of metal, etc. |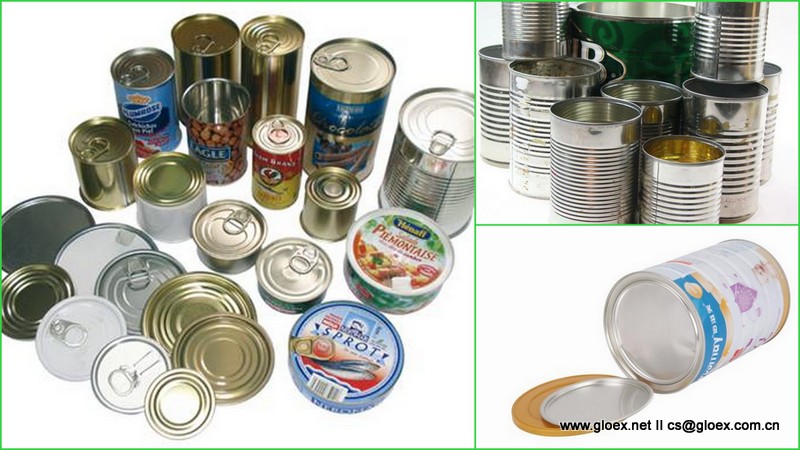 The working processes include:
Pre-seaming Process: Feed the filled can by conveyor and rotary plate, and the machine pre-cap the lid on the can to be seamed. Then the can moves for pre-seaming
Continuous Vacuuming and Gassing: after pre-seaming, the can moves to the vacuuming and nitrogen flushing chambers continuously, after vacuuming, nitrogen or other gas will be injected to the chamber to normal pressure,
Final Seaming Process: after these 2 steps move to the station for final seaming and conveying out
Standard Features
1) Apply for Round Shaped Tinplate can , Aluminum Can or PET can seaming with vacuuming and nitrogen filling/gassing processes
2) Configure with Stainless Steel 304 for structure, and other key components
3) 12 vacuuming and gassing chambers, continuous vacuuming and gassing design enable high speed seaming
4) All processes include Can feeding, lidding, vacuuming, nitrogen filling and can seaming processes can be done automatically
5) Configure with can feeding and lidding interlock, no can feeding no lidding
6) Configure with PLC and touch screen control system, parameters can be set up conveniently.
Equipped with high precise sensor for vacuum detecting
Optional Features
1) Protection Shield
2) Out of range can seaming
ž Continuous vacuuming and gassing design
ž Pre-seaming process design , enable less leakage of powder during vacuuming
ž Lower residual oxygen result, equal or less than 3%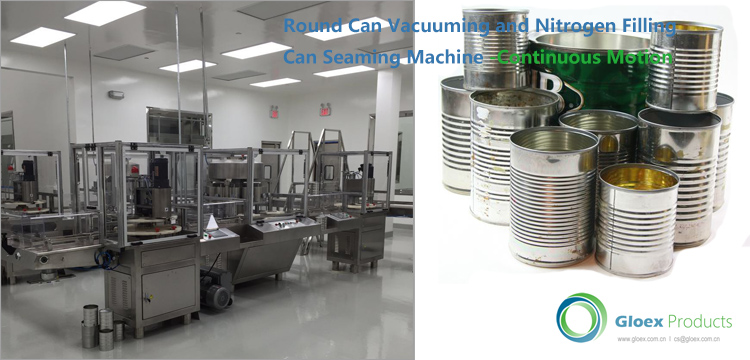 Catalogue 2T-xxxxx
CN540
Type
Non-Rotating
Automation
Automatic
Number of Vacuuming / gassing chamber
12
Pre-seaming Machine
1
Seaming Machine
1
Control Method
PLC & Touch Screen HMI
Speed Adjustable
Adjustable
Container Moving Method
Conveyor and Rotary Plate
Height of Container
100-200mm
Diameter of Caps
90-127 mm
Seaming Speed
30 -35 cans/ Min
Residual Oxygen
<=3%
Power Requirement(V/Hz)
AC 380 V 50/60HZ
Electricity Consumption(kW)
5.0
Lid Pre-capping
Automatic
Compressing Air Requirement
60L/min-0.6-0.8MPa
Nitrogen/Gas Requirement
350L/min-0.4-0.6Mpa
Approximate Weight(Net)(kg)
2000kg

‍

Dimension(mm)
6000(L)×1690(W)×1905(H)
Following is the video playlist on our Youtube site

Continuous Motion Round Shaped Can Vacuum Seamer
For more information or techncical support , please contact us at : cs@gloex.com.cn