It is applicable for opening blank, side loading products in position, squared the case, and hot melt glue sealing the case.
Applicable for daily use, beverage, food, chemical, pharmaceutical industries of the packing process, etc.
Applications:
Bag-in-Box Cereal Cartons
Confectionery
Long Goods Pasta
Nutritional Products
Personal Care
Pharmaceutical
Snack Bars
Soap & Detergent
Packages
Pouches
Sleeved Trays
Other Rigid Containers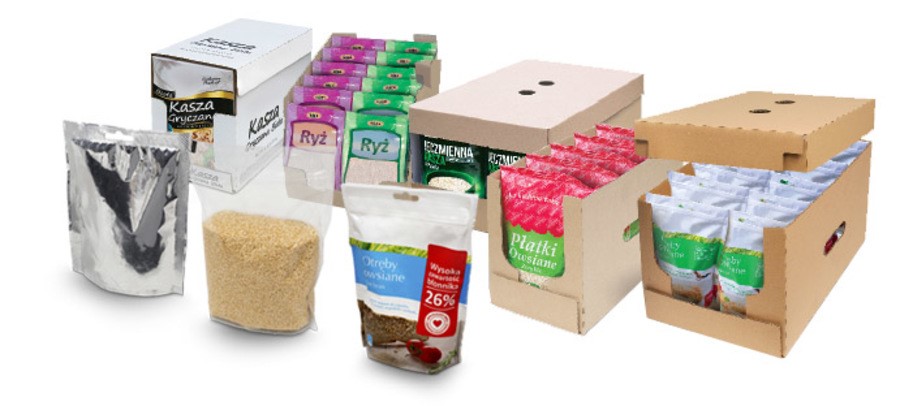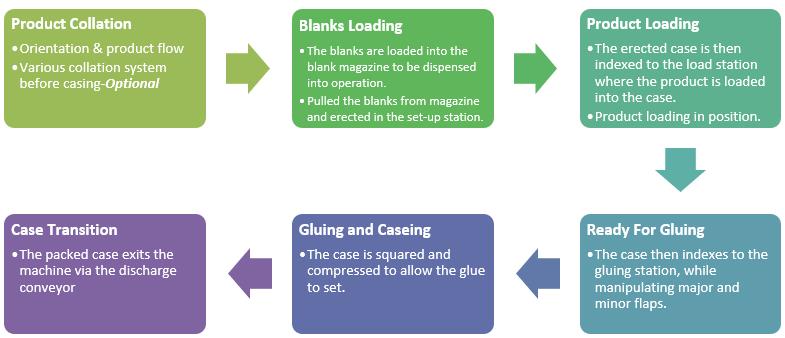 Various Collation System: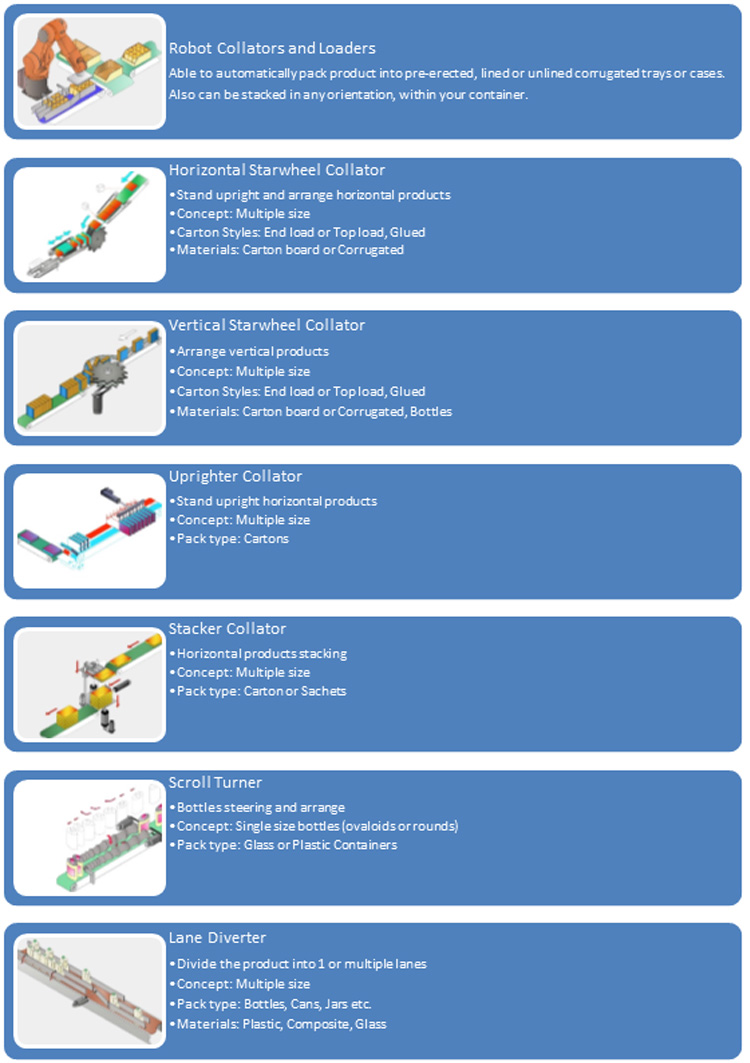 Various Packing Patterns:
A variety of packing patterns that can be customized, depending on user's needs: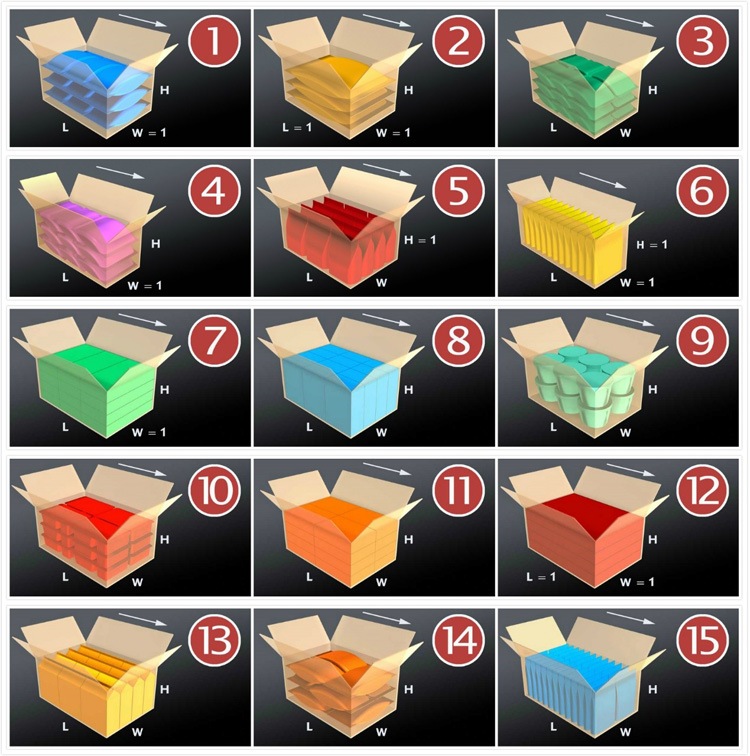 Standard Features
1) Painted heavy-duty steel construction design
2) Compact footprint
3) Hot melt glue sealing
4) Product loading from side or drop off
5) Vacuum assisted walking beam provides square cases
6) Centralized lubrication system, smooth operation, low noise, and high productivity
7) Telescoping Funnel - accurate product loading
8) Low Maintenance - easy access to all components provides for easy maintenance
9) User Friendly - fewer parts to time in
Optional Features
1) Various pack patterns and product sizes customization
2) Customized products collation system for different patterns
3) Stainless steel framework
4) Right & left hand execution
5) Automatic blanks loading
6) Product horizontal loading, blanks loading from below, for continuous high-speed wrap-around
7) Product and batch control by the vision system
8) To ensure speed and smooth handling, the loading operation can be carried out by a robot products pusher: 2-axis, 3-axis, 6-axis, or Scara.
Product Collation and Loading

Practically, the advantages as indicated as following: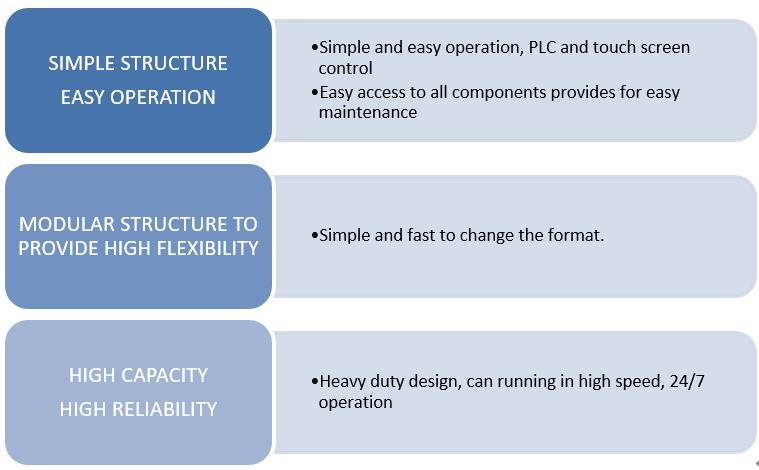 | | | |
| --- | --- | --- |
| Model | SH-GB01 (Side load) | SH-GB02 (Drop off) |
| Carton Size | L200-350/W300-450/H100-300mm | L200-450/W150-350/H800-350mm |
| Table Height | 600±50mm | 750-450±50mm |
| Speed | 12-15 bax/min | 15-20box/min |
| Power | 220V/380V 50/60HZ 8KW | 220V/380V 50/60HZ 10KW |
| Sol temperature | 170℃±5℃ | 170℃±5℃ |
| Pneumatic | 0.4-0.8Mpa | 0.4-0.8Mpa |
| Machine Size | L6000 x W2200 x H1900mm | L8000 x W2200 x H2000mm |
| Machine Weight | 2200Kg | 2600Kg |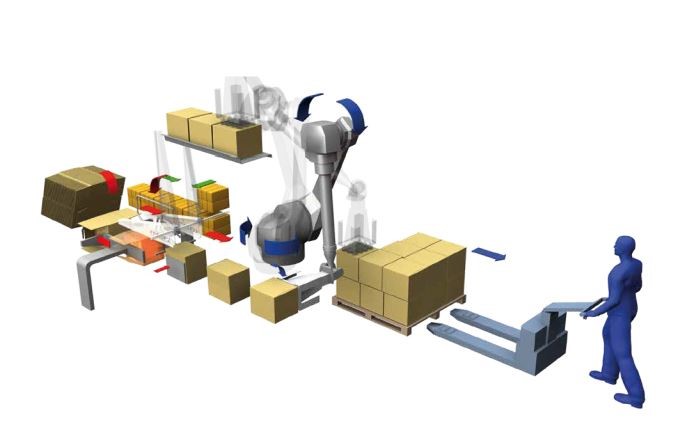 If need more support, please contact us at: cs@gloex.com.cn