This machine is applicable for seed counting, by utilize vision counting technology, counting in high accuracy, fast speed, like tomato, cucumber, melon, watermelon, eggplant, pepper, sweet pepper or other ornamental plants, vegetable seeds
This seed counter is also applying for counting of small mechanical parts, as counting machines for diamonds, gems and other precious stones or as counting device for implants such as screws, washers, stents, teeth and so on. The counters are available as precise single channel counters or as fast multichannel counters.
This counter is specialized for fast counting and dosing of medium to large quantities.
Standard Features
1)Stainless steel 304 or aluminum for frame and surface
2)Vision counting technology and advanced software
3)High accuracy operation
4)High speed counts vast quantities
5)High performance vibrating channel, quick response start/stop
6)Touch screen control with parameter pre-setting and production report feature
7)PAD configure with Android operation system
8)Easy clean for vibrating pan
Optional Features
1)Bagging system
2)Canning system
3)Printing device configuration
4)Foot pedal control
5)Industrial Computer configure with Windows operation system
1)High resolution CCD camera counting technology not by photoelectric sensor
2)Easy open for channel and hopper cleaning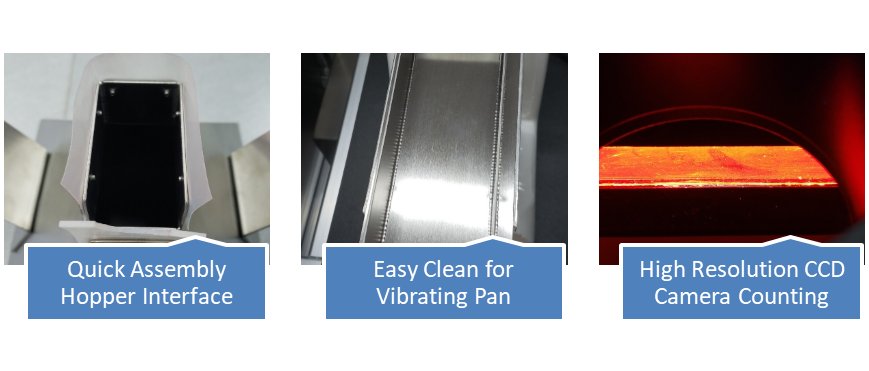 | | | | |
| --- | --- | --- | --- |
| Type 4G-xxx-x | 80-1 | 80-2 | 80-3 |
| Counting lanes | 1 | 2 | 3 |
| Size of counting object | 1-30 mm | 1-30 mm | 1-30 mm |
| Hopper Volume | 10 Liter | 16 Liter | 20 Liter |
| Speed1) | App 6,000 pieces/min @ tomato seeds | App 8,000 pieces/min @ tomato seeds | App 10,000 pieces/min @ tomato seeds |
| Accuracy2) | App. 99.7% | App. 99.7% | App. 99.7% |
| Power Supply | 220VAC 2P+E 50HZ | 220VAC 2P+E 50HZ | 220VAC 2P+E 50HZ |
| Capacity | 0.5Kw | 0.7kw | 0.9kw |
| Dimension | L940*W400*H500mm | L960*W400*H500mm | L1050*W500*H500mm |
| Weight | 70kg | 85kg | 95kg |

1) The counting speed is determined by the number of channels and the size and shape of the products

2) The counting accuracy subject to the type, size of products and counting speed
Reference speed of typical seeds
| | | | |
| --- | --- | --- | --- |
| Type 4G-xxx-x | 80-1 | 80-2 | 80-3 |
| Cabbage-1000 pieces | 6ppm | 9ppm | 12ppm |
| Tomato-1000 pieces | 6ppm | 8ppm | 10ppm |
| Sweet Pepper-1000 pieces | 5ppm | 7ppm | 9ppm |
| Watermelon-200 pieces | 5ppm | 8ppm | 11ppm |
| Pumpkin-200 pieces | 4ppm | 6ppm | 8ppm |
PPM means packaging per minute
Configure with different machines, capable to form automatic packaging lines
Bagging system-Premade Pouch and Canning system

Following is the video playlist on our Youtube site
For more information or technical support, please contact us at : cs@gloex.com.cn