This machine is applicable for film forming filling and sealing of flat pillow pouch or side gusset pouch.
By configure with different metering devices, suitable for packing powder, granule, liquid or other irregular solidity, etc.

Note: the above working processes indicate for main machine only
Standard Features
1) Touch screen HMI Control, easy for parameter setting and troubleshooting
2) Mainly stainless-steel 304 construction
3) Heavy duty design suits for high-speed operation
4) Film unwinding method: Servo Motor
5) Film pulling Method: Servo Motor
6) Horizontal sealing method: Servo Motor
7) Intelligent temperature controlling configuration, ensure the artistic and neat sealing
8) Configure with packaging film tension control, to enable stable pouch making
9) Smaller size, flexible for space adaption

Optional Features
1) Stainless Steel 316 for product touching parts
2) Gusset pouch
3) 3 side sealed pouch
4) Flat or Zigzag cutting off
5) Hanging hole punching
6) Nitrogen flush
7) Embossing, ribbon, inkjet or laser coding
1. Powder
• Powder loading device
• Auger filler
• Vacuum dust collecting system
2. Granule
• Product loading system
• Multi-head weigher
• Volumetric cup
3. Liquid
Different pumps applied for ordinary liquid, viscous liquid, sauce with small slices.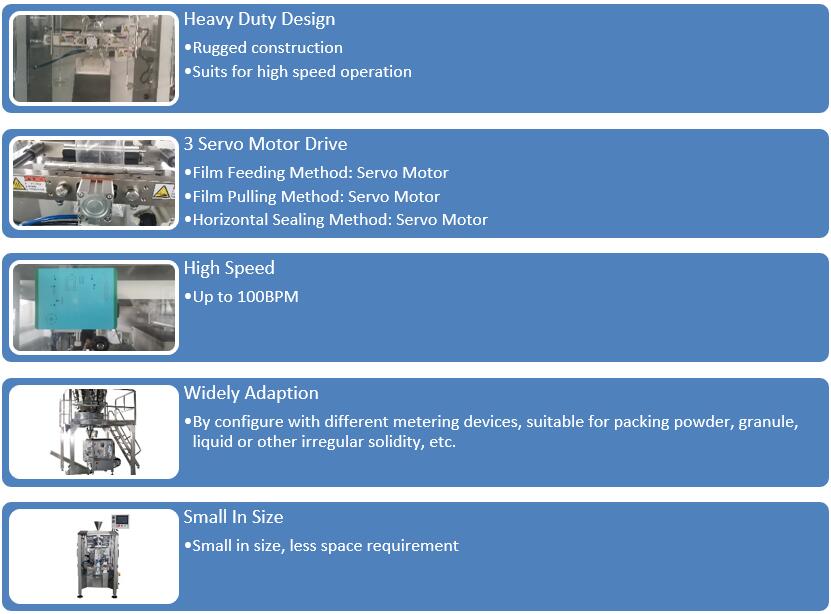 | | | |
| --- | --- | --- |
| Type | 320SF | 420SF |
| Packaging Speed | 20-100 bags/min | 20-100 bags/min |
| Film Width | 120-320 mm | 120-420 mm |
| Bag size | L: 50-170 mmW: 50-150 mm | L: 50-300 mmW: 50-200 mm |
| App Air Supply | >=6 kg/cm³, 80 L/min | >=6 kg/cm³, 200 L/min |
| Power Consumption | 3.5 kw | 4 kw |
| Power Supply | 220 VAC /2P+E/ 50 Hz | 220 VAC /2P+E / 50 Hz |
| Dimensions L*W*H | 1350*1000*1450 mm | 1500*1000*1500 mm |
| Net Weight: | 350 kg | 450 kg |
| | | |
| --- | --- | --- |
| Type | M12F32-07 | M12F42-07 |
| Dosing | Combination Weigher | Combination Weigher |
| Pro-proportion Bucket | 12 | 12 |
| Weighing Bucket | 12 | 12 |
| Bucket Volume | 0.7 Liter | 0.7 Liter |
| Bucket Open Doors | Single door | Single door |
| Packaging Speed | 20-100 bags/min | 20-100 bags/min |
| Film Width | 120-320 mm | 120-420 mm |
| Bag size | L: 50-170 mmW: 50-150 mm | L: 50-300 mmW: 50-200 mm |
| App Air Supply | >=6 kg/cm³, 80 L/min | >=6 kg/cm³, 200 L/min |
| Power Consumption | 4 kw | 4.5 kw |
| Power Supply | 220 VAC /2P+E/ 50 Hz | 220 VAC /2P+E / 50 Hz |
| Dimensions L*W*H | 1350*1000*2300 mm | 1500*00*2500 mm |
| Net Weight: | 700 kg | 800 kg |
Note:
1) The speed of packaging subject to the filling volume, size of bag, characteristic of products and accuracy requirement
2) The filling accuracy subject to the packaging speed, filling volume and characteristic of products
3) Need to configure with different type or set of metering devices to cover the full filing range, and different characteristic of products

VD327A 3 Servo High Speed Vertical Form Fill Seal Machine+Volumetric Cup+Sunflower Seeds+103BPM
VD327B 3 Servo High Speed Vertical Form Fill Seal Machine+Multi head weigher+20g MM bean + 97BPM
VD327C 3 Servo High Speed Vertical Form Fill Seal Machine+Empty Pouch+120BPM
VD327D 3 Servo High Speed Vertical Form Fill Seal Machine+Multi head Weigher Integrated
Please leave us message for more information. email: cs@gloex.com.cn