This machine is applicable for dosing liquid and sealing in form of stick, with back sealing style, include the stick forming, product dosing, filling and stick sealing processes, In different patterns of sealing, and flat, zigzag cutting or other irregular shape punching.
By configure with different accessories, suitable for measuring normal or even viscous liquid with or without mix with granules, such as water, juice, ketchup, honey, sauce, jam, etc.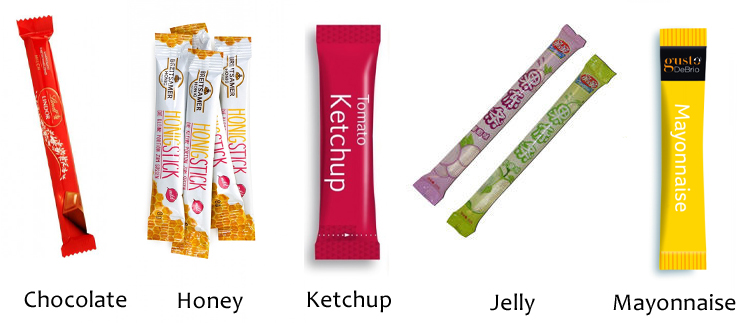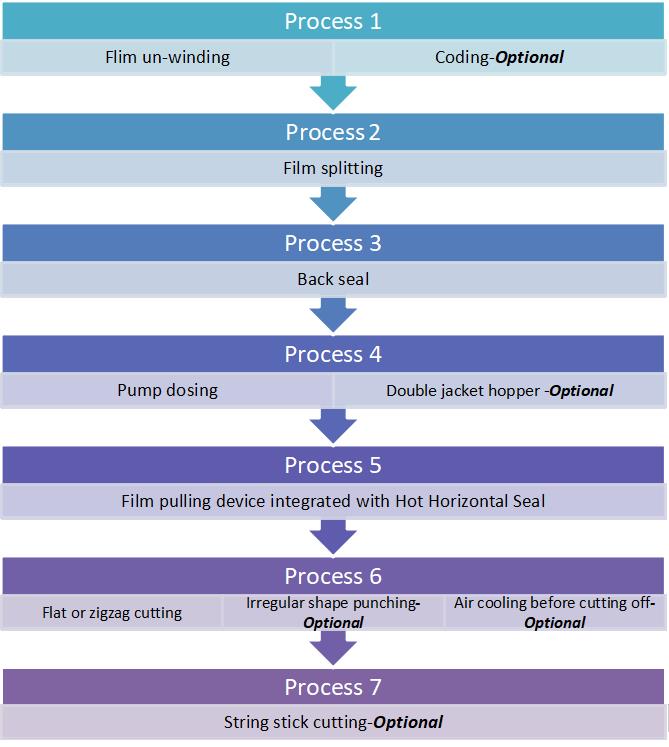 Standard Features
• Mainly stainless-steel 304 construction and product touching parts
• CNC processes forming tubes with less friction with the film, reducing film offset and sliding
• Pneumatic round shaped film splitting knives, long life cycle and easy change over
• No waste of film design, no reserved film edge required
• PLC & Touch screen HMI control
• Guided servo motorized film pulling device integrated with hot horizontal seal
• Intelligent PID temperature controller
• Fully openable electrical control box door, for easy maintenance
• Door open and machine stop interlock
• No packaging film and machine stop interlock
• Separate vacuum buffer for more stable operation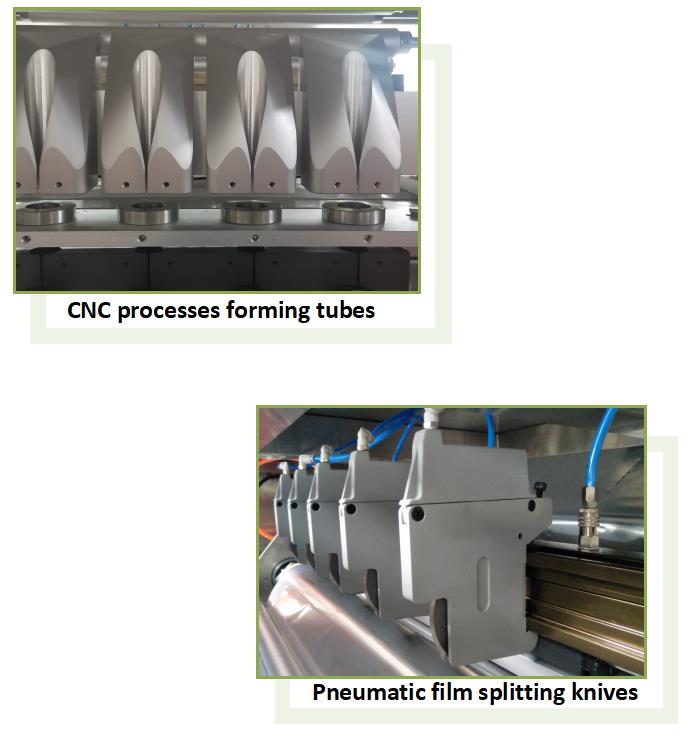 Optional Features
• Stainless Steel 316 for product touching parts
• Sealing pattern
• Air cooling before cutting off
• Flat or Zig-zag cutting off
• Round and other irregular shape cutting off
• String sticks
• Tear notch
• Embossing, ribbon, inkjet or laser coding
• Grouping conveyor
• Stick counting system
• Cartoning or bagging system
• Double jacket heat insulation hopper, to increase the fluidity of the liquid, for better filling accuracy.
• Dual products dosing with double layer tube
• High-precision ceramic pump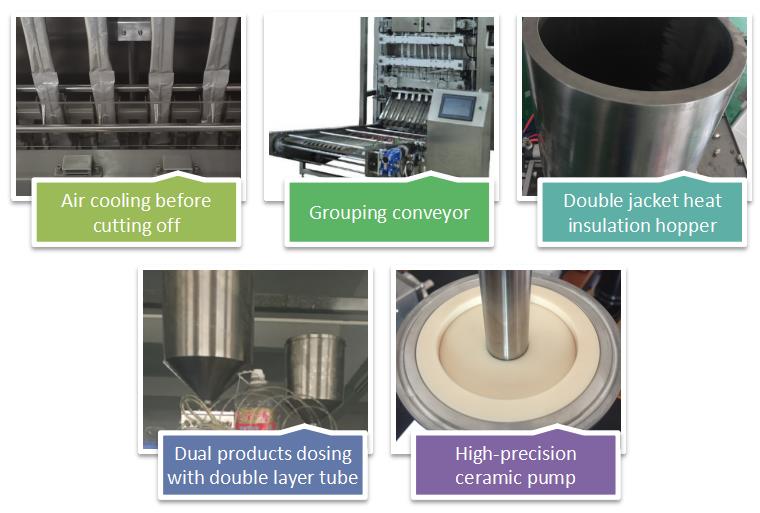 | | | | |
| --- | --- | --- | --- |
| Type 4W-xxx | 4T-YB-4 | 4T-YB-6 | 4T-YB-8 |
| Dosing Method | Magnetic pump or Piston Pump | Magnetic pump or Piston Pump | Magnetic pump or Piston Pump |
| Packaging Speed | 20-45 sticks/min/lane | 20-45 sticks/min/lane | 20-45 sticks/min/lane |
| Max film width | 450 mm | 450 mm | 450 mm |
| Lanes | 4 lines | 6 lines | 8 lines |
| Sachet Length | 30-170 mm | 30-170 mm | 30-170 mm |
| Sachet Width | >=18mm | >=18mm | >=18mm |
| App Air Supply | 0.8Mpa, 0.8m3/min | 0.8Mpa, 0.8m3/min | 0.8Mpa, 0.8m3/min |
| Packaging Film Roll | Heat sealable laminate film | Heat sealable laminate film | Heat sealable laminate film |
| Power Supply | 220 VAC /1 Phase/ 50 Hz | 220 VAC /1 Phase/ 50 Hz | 220 VAC /1 Phase/ 50 Hz |
Note:
1) The speed of packaging subject to the filling volume, size of stick, characteristic of liquid and accuracy requirement
2) The filling accuracy subject to the packaging speed, filling volume and characteristic of liquid
3) Need to configure with different type or set of pumps to cover the full filing range, and different characteristic of liquid